Mixed Chamber Music for 3, 4 and 5 Players: The Ultimate Collection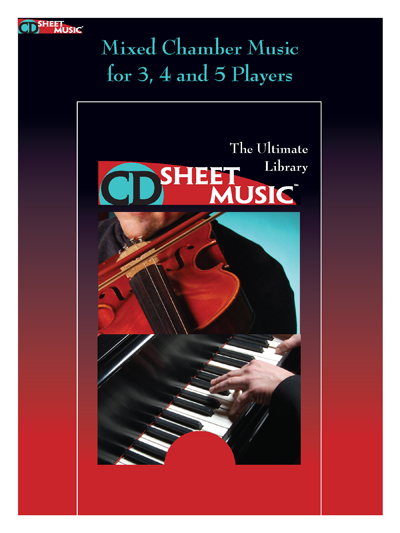 This disk contains performance materials for an eclectic collection of small chamber pieces, scored for a variety of instrument combinations, usually with Piano. Pieces for Violin/Viola/Piano, Clarinet/Viola/Piano, Viola/Violoncello/Piano, Flute/Viola/Guitar and many other combinations are offered. Represented are works of Amberg, Bach, Beethoven, Brahms, Debussy, Handel, Juon, Mozart, Stravinsky, Weber and many more, for an offering of over 2,000 pages of music.
$19.95
Table of Contents:
AMBERG, JOHAN
Fantasiestücke, Op. 12

BACH, JOHANN CHRISTIAN
Trio Sonata in Bb Major, H. 584

BACH, CARL PHILLIP EMANUEL
Trio Sonata in G Major, H. 583

BAX, ARNOLD
Elegiac Trio
Quintet for Harp and Strings
Trio in One Movement, Op. 4

BEETHOVEN, LUDWIG VAN
Quartet, after the Septet, Op. 20, arr. Hummel

BRAHMS, JOHANNES
2 Songs, Op. 91
Clarinet Quintet, with Solo Viola, Op. 115
Trio, Op. 114
Trio, Op. 40 (with Viola)

BRUCH, MAX
8 Pieces, Op. 83

D'INDY, VINCENT
Piano Trio, Op. 29 (with Clarinet)

DEBUSSY, CLAUDE
Sonata

DRIGO, RICCARDO
Meditazione

FUCHS, ROBERT
Trio, Op. 115

GRAINGER, PERCY ALDRIDGE
Handel in the Strand (Clog Dance)

HANDEL, GEORGE FRIDERIC
Trio Sonata in Bb Major, HWV 402
Trio Sonata in E Major, HWV 394
Trio Sonata in E Major, HWV 401
Trio Sonata in Eb Major, HWV 382
Trio Sonata in G Minor, HWV 387
Trio Sonata in G Minor, HWV 391

HARTMANN, EMIL
Sérénade, Op. 24

HEROLD, EMIL
Serenade in Bb Major

HOLLäNDER, ALEXIS
6 Characteristic Pieces, Op. 53

JONGEN, JOSEPH
Trio, Op. 30

JUON, PAUL
Divertimento, Op. 34
Silhouettes, Opp. 9 and 43

KLENGEL, JULIUS
Piano Trio, Op. 1

KLUGHARDT, A.
Schifflieder, Op. 28

KOESSLER, HANS
Trio-Suite

KREUZ, EMIL
Trio Facile, Op. 32

KROMMER, FRANZ
Quartet in F Major, Op. 17

LOEFFLER, CHARLES MARTIN
2 Rhapsodies

MASON, DANIEL GREGORY
Pastorale, Op. 8

MOLINO, FRANCESCO
Trio, Op. 45

MOZART, WOLFGANG AMADEUS
3 Quartets
Piano Trio in Eb Major, K. 498, Kegelstatt
Quartet, K. 370
Trio, K. 498

NAUMANN, ERNST
Trio in F Minor, Op. 7

NEUBAUER, FRANZ CHRISTOPH
Variations for Flute, Violin, and Viola

PAGANINI, NICCOLò
Terzetto Concertante

REGER, MAX
Serenade in G Major, Op. 141a
Trio in B Minor, Op. 2

REINECKE, CARL
Trio, Op. 264

ROLLA, ALESSANDRO
2 Quartets

RUTHARDT, ADOLF
Trio, Op. 34

SAINT-SAëNS, CAMILLE
Barcarolle, Op. 108

SPERGER, GIOVANNI
Terzetto

STAMITZ, JOHANN
Trio Sonata in G Major

STRAVINSKY, IGOR
Suite from l'Histoire du Soldat (arr. Stravinsky)

VAUGHAN WILLIAMS, RALPH
4 Hymns, for Voice, Piano, and Viola

VIEUXTEMPS, HENRI
Duo Brillant, Op. 39

WEBER, CARL MARIA VON
Trio, Op. 63