Violin Solos & Duets: The Ultimate Collection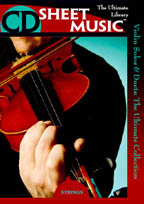 The collection brings together over 350 works by 83 composers for violin solo, violin & piano, and 2 violins from all periods and at all levels of technical proficiency.

Composers include: Albéniz, Bach, Bartók, Beethoven, Boccherini, Brahms, Bruch, Busoni, Chaminade, Chopin, Corelli, Debussy, Dvo?ák, Elgar, de Falla, Fauré, Franck, Gluck, Godard, Granados, Handel, Haydn, Janá?ek, Kodály, Kreisler (36 arrangements and original works), Lalo, Liszt, Massenet, Mendelssohn, Milhaud, Mozart, Paganini, Purcell, Rachmaninoff, Ravel, Saint-Saëns, Sarasate, Satie, Schubert, Schumann, Sibelius, Stravinsky, Suk, Tartini, Tchaikovsky, Telemann, Vieuxtemps, Viotti, Wieniawski and Ysa˙e, among others

Also includes composer biographies and related articles from the 1911 edition of Grove's Dictionary of Music and Musicians

Companion collections for violin include: Violin Concertos (#00220549); Violin Methods and Studies(#00220546); Violin Sonatas (#00220548). Each is a comprehensive collection in its own right; together they encompass a unique and comprehensive anthology of music for the violin.


$19.95
Table of Contents:
ALBéNIZ, ISAAC
3 Pieces

Rumores de la Caleta (Malagueńa, from Recuerdos de Viaje)
Pavana-Capricho
Torre Bermeja [Serenata])

3 Spanish Dances

Cordoba, Sevilla, Sérénade espagnole

3 Spanish Pieces

Mallorca
Danza Oriental
Bolero

Sous le Palmier (from Chants d'Espagne)
Tango: see under Fritz Kreisler
BACH, CARL PHILLIP EMANUEL
Twelve Little Pieces (2 violins)

BACH, JOHANN SEBASTIAN
Air on the G String
Arioso
Prelude in E from Partita in E Major: see under Fritz Kreisler
Sarabande from English Suite No. 3 (transcribed by Camille Saint-Saëns)
Ten Little Pieces

BARTóK, BéLA
10 Pieces, from For Children
10 Slovak Folksongs (from For Children), transcribed by Móži)
3 Hungarian Folksongs (from For Children, transcribed by Országh and Bartók)

BEETHOVEN, LUDWIG VAN
3 Cadenzas for Violin Concerto in D Major, Op. 61: see under Fritz Kreisler
Rondo In G Major
Twelve Variations

BOCCHERINI, LUIGI
Menuet from Quintet in E

BRAGA, GAETANO
La Serenata (Angel's Serenade)

BRAHMS, JOHANNES
Cadenza for Violin Concerto in D Major, Op. 77: see under Fritz Kreisler
Cradle Song (Wiegenlied), Op. 49, No. 4
Hungarian Dance No. 17 (arranged by Fritz Kreisler)
Hungarian Dances, Bk. I, Nos. 1-10 (arranged b Joseph Joachim)
Hungarian Dances, Bk. II, Nos. 11-21 (arranged b Joseph Joachim)

BRUCH, MAX
In Memoriam (Adagio)
Kol Nidrei, Op. 47
Scotch Fantasy, Op. 46
Swedish Dances, Book 1 and 2, Op. 63

BUSONI, FERRUCCIO
Albumblatt in E Minor

CAMPAGNOLI, BARTOLOMEO
7 Divertimenti, Op. 18

CHAMINADE, CéCILE
Serenade Espagnole: see under Fritz Kreisler

CHOPIN, FRéDéRIC
Two Nocturnes (Op. 27, No. 2 and Op. 9, No. 2) arr. Sarasate

CORELLI, ARCANGELO
La Folia

D'AMBROSIO, ALFREDO
Canzonetta, Op. 6

DANCLA, CHARLES
6 Airs Variés, Op. 118
6 Airs Variés, Op. 89

DE BéRIOT, CHARLES
3 Duos Concertants, Op. 57
Scčne de Ballet, Op. 100

DE FALLA, MANUEL
Spanish Dance from La Vida Breve: see under Fritz Kreisler

DEBUSSY, CLAUDE
Beau Soir
La Fille Aux Cheveux De Lin (The Girl with the Flaxen Hair)
La Plus Que Lente
Ręverie

DRDLA, FRANZ
Souvenir

DRIGO, RICCARDO
Valse-Bluette

DVORáK, ANTONíN
Ballade, Op. 15
Nocturne, Op. 40
Romance in F Minor, Op. 11
Romantic Pieces, Op. 75
Slavonic Dance No. 1 in G Minor: see under Fritz Kreisler
Slavonic Dance No. 2 in E Minor: see under Fritz Kreisler
Spiritual Melody (Largo from New World Symphony): see under Fritz Kreisler

ELGAR, EDWARD
La Capricieuse, Op. 17
Sospiri (Adagio), Op. 70

FAURé, GABRIEL
Aprčs un Ręve
Aurore
Berceuse, Op. 16
Sicilienne, Op. 78

FIOCCO, JOSEPH-HECTOR
Allegro

FOSTER, STEPHEN COLLINS
Old Folks at Home: see under Fritz Kreisler

FRANCK, CéSAR
Andantino Quietoso, Op. 6

FRIML, RUDOLF
Chanson

GABRIEL-MARIE, JEAN
La Cinquantaine

GILLET, ERNEST
Loin du Bal

GLUCK, CHRISTOPH WILLIBALD
Melody from Orfeo ed Euridice: see under Fritz Kreisler

GODARD, BENJAMIN
Berceuse from Jocelyn

GOUNOD, CHARLES
Meditation on the First Prelude of J. S. Bach

GRANADOS, ENRIQUE
Spanish Dance: see under Fritz Kreisler

HANDEL, GEORGE FRIDERIC
Largo

HAYDN, FRANZ JOSEPH
Serenade

HERBERT, VICTOR
Canzonetta

HUBAY, JENö
Hejre Kati (Scene from the Czárda), Op. 32, No. 4

JANáCEK, LEOS
Dumka
Romance

KéLER-BéLA,
The Son of the Puszta, Op. 134, No. 2

KODáLY, ZOLTáN
Adagio

KREISLER, FRITZ
3 Cadenzas for Beethoven, Violin Concerto in D Major, Op. 61
Aucassin and Nicolette (Medieval Canzonetta)
Cadenza for Brahms, Violin Concerto in D Major, Op. 77
Cadenza for Paganini, Violin Concerto No. 1
Caprice Viennois
Caprice Viennois (simplified version)
Chanson Louis XIII and Pavane
Farewell To Cucullain (Londonderry Air)
Hungarian Dance No. 17: see under Brahms
La Campanella, Op. 7: see under Paganini
La Chasse (Caprice, after Cartier)
La Gitana
Liebesfreud (Love's Joy)
Liebesleid (Love's Sorrow)
Melody from Orfeo ed Euridice (Gluck)
Miniature Viennese March
Old Folks at Home (Foster)
Prelude in E (from Bach's Partita in E Major)
Preludium and Allegro (in the Style of Pugnani)
Rondino on a Theme of Beethoven
Rondo (from Mozart's Haffner Serenade)
Schön Rosmarin (Fair Rosmarin)
Serenade Espagnole (Chaminade)
Sicilienne and Rigaudon (in the Style of Francoeur)
Slavonic Dance No. 1 in G Minor (Antonín Dvorák)
Slavonic Dance No. 2 in E Minor (Antonín Dvorák)
Song Without Words (Mendelssohn, Op. 62, No. 1)
Spanish Dance (Granados)
Spanish Dance from La Vida Breve (de Falla)
Spiritual Melody (Largo from Dvorák's New World Symphony)
Syncopation
Tambourin Chinois, Op. 3
Tango (Albéniz, Op. 165, No. 2)
Tempo di Minuetto (in the style of Pugnani)
Toy Soldiers March
Variations on a Theme by Corelli

LALO, ÉDOUARD
Guitare, Op. 28

LISZT, FRANZ
Second Elegie

MASSENET, JULES
Meditation (from Thais)

MAZAS, JACQUES
12 Little Duets, Op. 38 (Book 1)
12 Little Duets, Op. 38 (Book 2)
6 Duets, Op. 39 (Book 1)

MENDELSSOHN, FELIX
On Wings of Song, Op. 34, No. 2
Scherzo, from A Midsummer Night's Dream
Song Without Words, Op. 62, No. 1: see under Fritz Kreisler

MILHAUD, DARIUS
Le Printemps

MLYNARSKI, EMIL
Mazurka

MONTI, VITTORIO
Csardas

MOSZKOWSKI, MORITZ
Guitare, Op. 45, No. 2 (arranged by Sarasate)
Serenata, Op. 15, No. 1

MOZART, LEOPOLD
12 Little Pieces from the Notebook of W. A. Mozart

MOZART, WOLFGANG AMADEUS
Rondo from Haffner Serenade: see under Fritz Kreisler

NOVáCEK, OTTOKAR
Perpetuum Mobile

OFFENBACH, JACQUES
Belle Nuit (Barcarolle from Tales of Hoffmann)

PADEREWSKI, IGNACY JAN
Melody

PAGANINI, NICCOLň
24 Caprices, Op. 1
Cadenza for Violin Concerto No. 1: see under Fritz Kreisler
Cantabile
I Palpiti, Op. 13
La Campanella, Op. 7
Moto Perpetuo, Op. 11

PIERNé, GABRIEL
Sérénade

PLEYEL, IGNAZ
6 Little Duets, Op. 48
6 Little Duets, Op. 8

PURCELL, HENRY
Golden Sonata, Two Violins

RACHMANINOFF, SERGEI
Hungarian Dance, Op. 6

RAVEL, MAURICE
Berceuse sur le Nom de Fauré
Menuet (from the Sonatine for Piano), arranged by Roques
Pavane de la Belle au Bois dormant (from Ma Mčre l'Oye), arranged by Lemaître

REHFELD, FABIAN
Spanish Dance, Op. 58, No. 1

SAINT-SAëNS, CAMILLE
Danse Macabre, Op. 40 (transcribed by the composer)
The Swan

SARASATE, PABLO DE
Bolero, Op. 30
Carmen Concert Fantasy, Op. 25
Introduction et Tarantelle, Op. 43
Navarra, Op. 33
Serenata Andaluza, Op. 28
Zigeunerweisen, Op. 20

SATIE, ERIK
Choses Vues a Droite et a Gauche

SCHUBERT, FRANZ
Ave Maria, Op. 52, No. 6
Duo (Sonata) in A Major, Op. 162
Fantaisie, Op. 159
Introduction and Variations in E Minor, Op. 160
L'Abeille, Op. 13, No. 9
Rondeau brillant, Op. 70
Serenade

SCHUMANN, ROBERT
3 Romances, Op. 94
Adagio and Allegro, Op. 70
Fantasie, Op. 131
Phantasiestücke, Op. 73

SIBELIUS, JEAN
2 Serenatas, Op. 69 (transcribed by Gärtner)
Four Pieces, Op. 78 (Impromptu, Romance, Religioso, Rigaudon)
Romance, Op. 2a

SIMONETTI, ACHILLE
Madrigale

STRAUSS, RICHARD
Wiegenlied, Op. 14, No. 2

STRAVINSKY, IGOR
Berceuse (from The Firebird Ballet)
Prélude et Ronde des Princesses (from The Firebird Ballet)

SUK, JOSEF
Appassionato, Op. 17, No. 2
Quasi Ballata, Op. 17, No. 1

SVENDSEN, JOHAN
Romance, Op. 26

TARTINI, GIUSEPPE
Concerto in D Major

TCHAIKOVSKY, PETER ILYICH
Canzonetta (from Violin Concerto), Op. 35

TELEMANN, GEORG PHILLIP
6 Canonical Sonatas

VIEUXTEMPS, HENRI
Feuilles d'Album, Op. 40 (Romance, Regrets, Bohémienne)
Ręverie

VIOTTI, GIOVANNI BATTISTA
3 Duets, Op. 29
6 Duets, Op. 20

VITALI, TOMMASO
Chaconne in G Minor

WAGNER, RICHARD
Träume (Dreams)
Walther's Prize Song (from Die Meistersinger)

WIENIAWSKI, HENRI
2 Mazurkas, Op. 12
2 Mazurkas, Op. 19
Capriccio-Valse, Op. 7
Études-caprices for Two Violins, Op. 18
L'Ecole Moderne, Op. 10
Legende, Op. 17
Obertass (Mazurka), Op. 19, No. 1
Polonaise Brillante, Op. 21
Polonaise Brillante, Op. 4
Romance (from Second Violin Concerto, Op. 22)
Scherzo-Tarantella, Op. 16
Souvenir de Moscow, Op. 6

YSA˙E, EUGčNE
Lointain Passé (Mazurka No. 3), Op. 11
Ręve d'Enfant, Op. 14