About CD Sheet Music™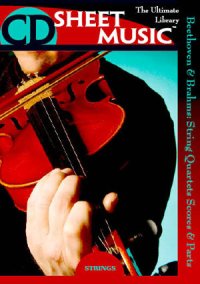 HISTORY
How did we start?
CD Sheet Music™, a revolutionary development in the distribution of printed music, was launched in July 2000 with fifteen titles, including ten collections of solo piano music (Bach, Beethoven, Chopin, Schumann, Brahms) and single collections of piano duets, sonatinas, and studies; and five collections of vocal music (Schubert lieder and opera arias in separate collections by voice type: soprano, mezzo-soprano, tenor, bass). From the moment it reached the market place, CD Sheet Music™ received an enthusiastic response from professional musicians, teachers, students, and serious music lovers worldwide. The New York Times called the series "A convenient source of music that will not clutter up the piano bench."
As of February 2008, the series now comprises sixty-two titles, featuring music from the Baroque, Classical and Romantic periods and covering a wide range of genres: symphonic, ensemble, strings, piano, organ, voice, and opera. A companion series, The Digital Editions — reprints of scholarly collected editions — was launched in 2005 and currently offers the collected works of Bach and Beethoven, as well as the 1911 edition of Grove's Dictionary.
With the advent of CD Sheet Music™ a vast library of printed music is now available and affordable to both the professional and aficionado alike. The future is now.
What is it?
CD Sheet Music™ makes printed sheet music electronically available on a CD-ROM (CDR). Each individual CDR disc contains an average of 2100 pages of music scanned in an easy-to-read, searchable format. If the total number of pages available through CD Sheet Music™ were printed, the result would be a stack of 165,000 single pages standing about 40 feet high. By contrast, the 68 individual CDRs in the CD Sheet Music™ series take up less than 12 inches on a bookshelf and weigh less than 4 pounds. The price difference to purchase music in this new format is also dramatic. The cost of a traditional printed and bound copy of the Beethoven Piano Sonatas is a minimum of $35 and can range over $100 for some editions. On the other hand, for a cost of only $19.95, CD Sheet Music™'s Beethoven: Complete Works for Piano includes not only all 32 sonatas but also the sonatinas, variations, bagatelles, dances, short pieces, and even the piano concertos. Over 1500 pages of music on one CD-ROM!
EDITIONS
Where does the music come from?
The primary requirement is that both the music and the editions used in any of the CD Sheet Music™ collections are out of copyright (that is, in the public domain) in the United States. Generally, this means that the edition was first published in 1922 or before. Once the editors of CDSM have identified a potential title for the series, research is done to compile a completeworks list (in the case of single-composer collections) or a list of the standard repertoire (in the case of a single instrument or genre collection). For collections covering a particular genre, the editors delve further to identify additional related works to create the most complete collection possible. For example, there are perhaps 200 French Art Songs (mélodies) that could be considered to be in the standard repertoire for singers. Some composers wrote many songs, but only a handful are still performed regularly The CDSM collection of French Art Songs includes virtually the complete art song output of the twenty-one selected composers for a total of 765 individual works (many in both high and low keys).
Because the CD Sheet Music™ collections include so many individual works from a variety of different published editions, we do not identify the edition for each work, but use the best available 19th and early 20th century editions from publishers such as Breitkopf and Härtel, C.F. Peters, G. Schirmer, Ricordi, Durand, Simrock, Novello, Ditson, and Carl Fischer, and many others.
Modern editions from such publishers as Henle, Barenreiter, Universal, and Alfred are currently under copyright and cannot be used in the CD Sheet Music™ series. Performers, teachers and students who already own modern editions can still benefit from these older editions available through CD Sheet Music™. Since our collections are complete (or nearly complete), they can be browsed to discover new or forgotten works or to obtain individual works that may be currently out-of-print or otherwise unavailable. They can also serve as a backup in emergencies or to avoid the loss of borrowed music.
PRODUCTION
How are the collections put together?
In producing each CD Sheet Music™ collection, we take a great deal of care to ensure both outstanding scholarship and state-of-the-art production values. Our editorial unit is headed by Juilliard graduate and music industry veteran Lawrence Rosen, an established composer who has developed over 50 printed music collections. Once we identify a particular collection for production (e.g. French Romantic Organ Music), we review the available editions and determine which one is the best for each individual work. Outside experts in each specific area (e.g. French art song, Romantic orchestral works) are also consulted. Often obtaining all of the music desired to complete our collections has been the biggest challenge because the editions are frequently not generally available and no other single publisher (outside of the scholarly editions, which do not generally contain piano reductions or solo parts) has endeavored to amass such complete collections. We are very grateful for the help we have received from many libraries, musicians, and private collectors. Special thanks to the Juilliard Library, The Fleisher Collection (Free Library of Philadelphia), Montclair State University Library, and the Westminster College Library.
TECHNICAL PREPARATION
What will the music look like?
A single CDR can contain up to 4000 pages of scanned sheet music. However, CD Sheet Music™ is much more just a collection of pages that are scanned and loaded onto a disc. Starting with as clean a copy of the original music as we can find (some of the music is new; some is used), we then use our specially-developed software to further clean any smudges or dirt marks on the original, straighten staff lines (if necessary) and re-optimize the margins to print at 8˝ by 11 ("letter-size") paper. While some reorganization, retitling, and touch-up of staff lines is done, we do not proofread the music or fix any of the original errors. In a few cases, we have typeset and made our own editions of important works for which a suitable public domain edition was available. Because of our special processing, in many cases, the music is clearer and actually looks better than the original.
In addition, the choral, opera, voice and Digital Edition formats also include indices developed to be helpful in navigating the files or locating a specific work. For instance, in the Bach Digital Edition individual titles can be searched in German or English or by the BWV numbers.
USING CD SHEET MUSIC™
What do I do?
CD Sheet Music™ is easy to use! Formatted for Adobe Reader®. For PC users (with auto-run enabled), just put the CDR in your drive and wait for the opening screen to display. Mac users should click on the "Mac Table of Contents" icon. We have created many helpful features to make searching for individual works quick and intuitive. Our Table of Contents page is interactive and will lead you directly to each title. The choral, opera, voice, and Digital Edition titles include searchable indices developed to assist in navigating the files or locating a specific work. For example, in Schubert Complete Songs, the various titles can be searched by Title, First Line, or Poet. In the Major Choral Works collection, all arias are indexed by voice type: a soprano, alto, tenor or bass can easily search the entire contents of the disks to find all the works that include that particular voice type. The Bach: Complete Church Cantatas CD contains an Index according to the Church Year as well as an Index by Title.
In addition to the sheet music, each collection includes Supplemental Material including biographical information on the composers and definitions of terms (e.g. "appoggiatura," "form," "pianoforte") found in the Grove's Dictionary of Music, 1911 edition.
As an aid to students performing in festivals, contests and auditions, we have included a "Festival Letter" on each CD that grants permission for the owner of a CD Sheet Music™ CDR to use printouts of the contents of the disk in a performance.
UPCOMING DEVELOPMENTS
New Titles
We are constantly expanding our CD Sheet Music™ offerings. Among the new titles currently in development are collections for solo clarinet, horn, and trumpet. The next title in the Digital Editions series will be Mozart: Collected Works. We anticipate releasing these titles in 2008. Updates on these forthcoming collections will be posted on our website as the contents are finalized and publication dates are imminent.
New Distribution – Single Works Available!
By special arrangement with Hal Leonard, "the world's largest publisher and music distributor" individual works will be available for download as single files for the first time. In 2008, individual works in all of the CD Sheet Music™ collections will be available through Hal Leonard Online (www.halleonard.com) as well as through their over 500 affiliated music dealers. This service will be ideal for anyone with an immediate need for a particular piece of music.
See and Hear the Music!
CD Sheet Music™, LLC has signed an agreement with Classical.com, "Home of Classical Recordings Online" and the largest download site for Classical, Jazz & Blues, and World Music (www.classical.com). In addition to recordings from all the major record labels, the Classical.com site provides album liner notes, composer and performer biographies, and other useful information. Coming later in 2007, Classical.com will offer its customers downloadable files of individual works from CD Sheet Music™ collections (where available) to accompany their recorded purchases.
OTHER PRODUCTS
The Orchestra Musician's CD-ROM Library™
The makers of CD Sheet Music™ also produce The Orchestra Musician's CD-ROM Library™ – a series of original orchestra parts from the great orchestral repertoire (Baroque, Classical, Romantic, Modern) collected on individual CDRs by instrument. These are the standard parts used by orchestras in the United States and around the world. The series currently encompasses over 600 symphonic masterworks in ten volumes, including music by Bach, Handel, Haydn, Mozart, Beethoven, Schubert, Schumann, Brahms, Dvorak, Ravel, Tchaikovsky, Rimsky-Korsakov, Elgar, Vaughan Williams, Bartók, Sibelius, Stravinsky, Schoenberg, and more. All the parts for each work are included on individual CDRs for violin (1st & 2nd parts), viola, cello, bass, flute (piccolo), clarinet (all parts), oboe (English horn), bassoon (contra-bassoon), horn, trumpet, low brass, timpani/percussion, and harp/keyboard/other (including piano, organ, guitar, saxophone, etc.).
As with CD Sheet Music™, The Orchestra Musician's CD-ROM Library™ offers incredible economic advantage over the cost of purchasing printed sheet music for instrumentalists, conductors, and ensembles. Each CDR includes all parts for which that instrument is scored. By acquiring the complete set of parts in a particular Volume (e.g. "Beethoven, Schubert and more"), an ensemble can perform any of the works in that series. At a cost of $19.95 per CDR, purchasing the complete set of 129 CDRs included in Volumes 1-10 represents an investment of $2573.55. Purchasing the set of printed materials for the same 614 works currently available in The Orchestra Musician's CD-ROM Library™ would cost approximately $300 per work or $184,200 for the entire collection. See www.orchmusiclibrary.com for complete information.
CD Sheet Music™ and The Orchestra Musician's CD-ROM Library™ are produced by CD Sheet Music™, LLC — a joint venture of Subito Music Corporation and Stephens Development Company (www.stephensmusicpub.com).