Classic Trumpet Methods and Exercises (With Selected Repertoire): The Ultimate Collection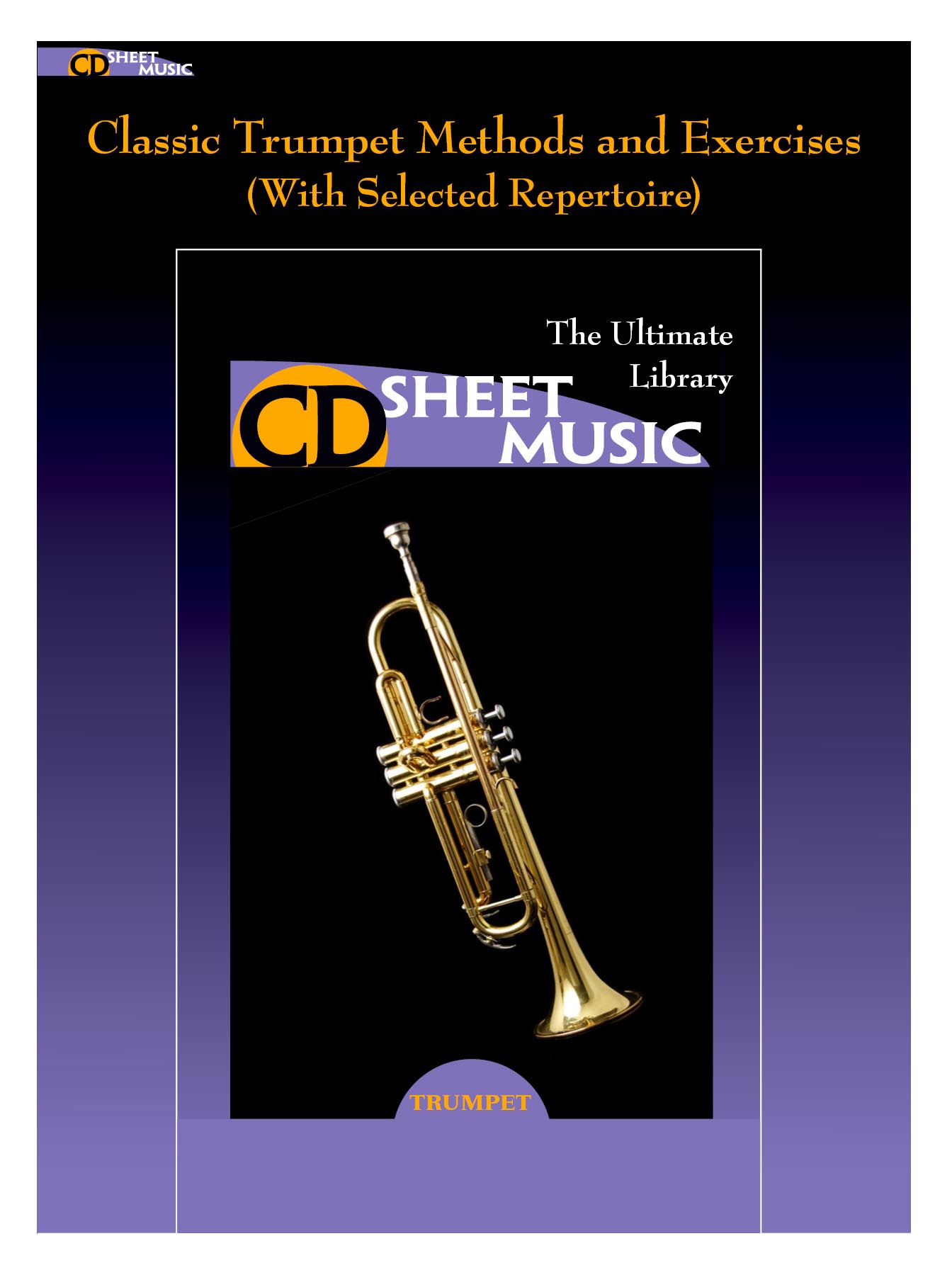 This disk contains over 4,000 pages of the pedagogical offerings of the great, classic Trumpet masters as well as performance materials for a concise collection of celebrated Trumpet concert repertoire.
$19.95
Table of Contents:
ARBAN, JEAN-BAPTISTE
14 Characteristic Etudes
Complete Celebrated Method
Fantaisie and Variations on The Carnival of Venice
Method for the Cornet

BALAY, GUILLAUME
Andante et Allegro
Prélude et Ballade

BERDIEV, V.
17 Studies

BLATT, FRANZ
15 Entertaining Etudes, Op. 24

BOEHME, OSKAR
24 Melodic Studies, Op. 20

BORDET, TOUSSAINT
36 Vocalises in Modern Style

BOUSQUET, NARCISSE
36 Celebrated Studies

BRANDT, VASSILY (WILHELM)
34 Studies for Orchestral Trumpet

CHARLIER, THEO
36 Etudes

CLARKE, HERBERT L.
24 Characteristic Studies
Birth of Dawn
Carnival of Venice
Carnival of Venice (alternate version)
Elementary Studies
From the Shores of the Mighty Pacific
Funiculì, Funiculà
Lillian
Side Partners
Sounds from the Hudson
Technical Studies
The Bride of the Waves
The Bride of the Waves (alternate version)
The Débutanté
The Débutanté (alternate version)
The Harp That Once Thro' Tara's Hills
The Maid of the Mist
The Maid of the Mist (alternate version)
The Southern Cross

CLODOMIR, PIERRE FRANçOIS
Complete Method
Elementary Method, Op. 13

CONCONE, GIUSEPPE
15 Vocalises, Op. 12 (High and Low)
25 Lessons, Op. 10
30 Daily Exercises, Op. 11 (High and Low)
50 Lessons, Op. 9 (High and Low)
School of Sight-Singing

DAUPRAT, LOUIS-FRANçOIS
Études, Book 2

GALLAY, JACQUES FRANçOIS
12 Studies

GATTI, DOMENICO
Grand Method, Volume II

GOLDMAN, EDWIN FRANKO
Practical Studies for Trumpet

HAYDN, FRANZ JOSEPH
Concerto in E Flat Major

HUMMEL, JOHANN NEPOMUK
Concerto in E Flat Major

IOGANSON, A.
47 Etudes

JOHANSON, AUGUST
69 Daily Studies

KIETZER, ROBERT
Studies for High Horn, Op. 83, Books 1 and 2

KLIER, JOãO BARTOLOMEO
Method (incomplete)

KOPPRASCH, GEORG
60 Selected Studies
Etudes, Op. 5, Books 1 and 2 (High)
Etudes, Op. 6, Books 1 and 2 (Low)

KOSLECK, JULIUS
School For The Trumpet

MICHELSOHN, HERMANN
Cornet School, from 16 Tutorials (1880)

PIETZSCH, HERMANN
The Trumpet - an Orchestral Instrument

ROPARTZ, GUY-JOSEPH
Andante et Allegro

SACHSE, ERNST
100 Studies

SAINT-JACOME, LOUIS A.
Grand Method for Trumpet or Cornet, Parts 1 and 2

SHUEBRUK, RICHARD
20 Duets
36 Favorite Home Duets
Lip Trainers
The Cornet Player's First Book (for Trumpet or Cornet)

VARIOUS COMPOSERS,
Etudes from The Russian School

VURM, VASILY
20 Studies
40 Studies
41 Duets
60 Etudes